SF House Tour: Holly and Sean's Global Style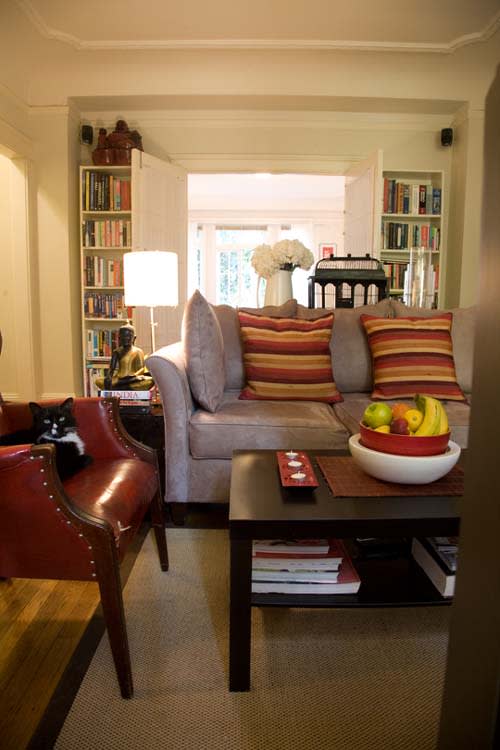 Name: Holly and Sean
Location: Nob Hill area
Size: 700 square feet
Years Lived In: Just over a year
>>


You'd probably never guess it by looking at these photos, but IKEA and Target are regular resources for these two. Holly and Sean seem to have mastered the art of decorating with those familiar, budget-friendly names. By incorporating travel mementos throughout their space, they have created a stylish and inspiring home. We imagine that an in-person tour would lead to lots of wonderful stories about some amazing destinations.
We first spied the couple's apartment on Holly's blog, Nothing But Bonfires, and we were so smitten by it, we had to drop her a note. She and her boyfriend Sean — who happen to be AT readers — graciously agreed to share their one-bedroom rental with us. (Bonus: Sean is a freelance photographer, so the photos are good and plentiful.) Now, after reading through their resource list, we are aching to hop on a plane with an empty suitcase for bringing back lots of cool finds of our own.
>>
Our style: I guess I'd probably call it "When Asia Met IKEA — And Then Took Her Thrifting."

The inspiration for our home: I'm British, but I grew up moving around all over the place — Europe and the Middle East, but mostly in and around Asia. So the houses I lived in were always decorated with a mishmash of stuff my parents had collected while gallivanting across the world; a pair of 17th century chairs that had been in the family forever, for example, would be next to a lamp my mother had found in Bali the month before. I guess I kind of inherited that gypsy magpie gene that convinces you that a brightly-colored cloth from Ecuador will look just fine on top of a table from Target and underneath some miniature bronze camels bought in Abu Dhabi. (Don't laugh: that is exactly what our living room is like.)

Plus, in the summer of 2006, Sean and I quit our jobs, packed our stuff into storage, and spent six months traveling in Southeast Asia: we made our way through China, Vietnam, Thailand, Cambodia, Malaysia, Singapore, and Burma — and we bought as many mementoes as we could stuff into our backpacks. We moved to San Francisco right afterwards, so you can see a lot of our trip in our apartment.

Favorite element: The teak Indonesian elephant chair up against the window in the bedroom — my parents bought it in Singapore, where they live, and shipped it over. It used to be strapped on to the top of an elephant's back so people could sit in style while they were riding — but now I just lie on it on Sunday afternoons and read magazines.

Biggest challenge in designing our home: It's a fairly small space and we have quite a lot of stuff — we moved from a slightly bigger apartment in Charleston, South Carolina (twice the ceiling height and half the rent!) so it's been a bit of a squeeze. I'm also a bit wary of creating too much of a "theme" apartment — we've got a lot of Asian stuff, because it reminds me of our travels and of where I grew up, but we've tried to also balance it with other things that appeal to us visually and aesthetically.

What friends say about our home: "Wow, you guys sure have a lot of Buddhas for people who aren't Buddhist."

Biggest embarrassment in our home: I really wish we'd painted more walls — with the exception of the bathroom, which we only painted a few weeks ago, it's very "apartment rental neutral." I'm planning to paint the hallway a deep red, though, and one wall of the kitchen a bright turquoise. We do go and get those little paint samples all the time — we just never get around to buying the actual paint.

Proudest DIY: Hanging the big wall o'pictures in the living room was quite a challenge — one that required a steady arm, a steady eye, a complicated diagram drawn out on paper beforehand, and a lot of patience. I think we almost broke up over that one, actually.

Biggest indulgence with respect to our home: We bought a really good mattress at the beginning of the year — it was a proper grown-up purchase, considering we'd just been sleeping on one that Sean got free with the bed in 2001, but it's made all the difference in the world. I do also think it's a bit indulgent to have a TV in the bedroom — especially when the apartment is so small that the one in the living room is only a few feet away! But it's a luxury to be able to watch stuff from bed, and I like having it on when I'm getting ready for work in the morning. It makes me feel like I'm staying in a hotel!

Best advice given or received: If you see something you like, don't buy it with the express intention of putting it in a certain place — or rather, do if you want to, but realize that once you get it home, you'll probably end up hating it there and will find a much better place for it instead.

Dream source for stuff: It's not so much a store as a whole country: I'm dying to go to India at the moment, and bring home one of everything! I have these great dreams where I'm in a huge market in Delhi and there are stalls and stalls of stuff for me to choose from. Then I wake up and the closest thing I've got is Target's Global Bazaar section. Not quite the same.
>>
RESOURCES

Appliances

Most came standard with the apartment, but the hot pink KitchenAid mixer was a Christmas gift from my uncle a few years ago — I put it on my Amazon wishlist never thinking anyone would buy it for me, but he says he just got carried away when he saw it.
Hardware
All came with the apartment.
Furniture
Hallway: Table from World Market.


Kitchen: Table and chairs from IKEA (pine that we painted black). Yellow chair from a Charleston thrift shop called Page's Thieves Market. Wine rack from World Market (we took out the top shelves for storage).


Living Room: Sofa from World Market. Red chair from Page's Thieves Market in Charleston ($35!). Antique Chinese chest (used as side table) also from Page's Thieves Market. Table behind sofa from Target. Coffee table, CD shelves, Billy bookcases (one was always white, and one used to be silver so we painted it to match), and TV stand all from IKEA.


Bathroom: Wooden chest from Target. Glass shelf from IKEA.


Bedroom: Bed from some random San Diego furniture shop in 2001 (Sean bought it and can't remember the name). Side tables from IKEA (pine that we painted white). Easel from an art supply store. Desk from Target. Antique Korean chest (with TV on it) bought by my parents in 1985 (think it's about 80 years old). Indonesian elephant chair bought in Singapore.
Accessories
Hallway: Teak Indonesian mirror belongs to my parents. Green silk tea lamps from Vietnam. White Buddha bought on Arab Street in Singapore. Turquoise vase from Target. Black candle holders from IKEA.
Orange "resin rocks" made by Slatkin, bought in Neiman Marcus. Standing monk statue bought in Inle Lake, Burma.
Kitchen: Spice rack from Williams-Sonoma. Hanging pot rack from IKEA. Teapot from a market in Singapore. Vintage turquoise Chairman Mao clock (Christmas present from Sean) from an antique shop in Singapore. Turquoise salt and pepper pot bought in a market in Hoi An, Vietnam. White pitcher from West Elm. Hanging mobile bought in market in Cambodia. Vintage cake stand from the now-defunct Cathedral School shop on Hyde Street in San Francisco (my old favorite thrift store; I was despondent when it closed!)
Living Room: Pillows just from TJ Maxx. Red fruit bowl bought in Vietnam. Dark red placemat bought in Indonesia. Red tea light holder (on coffee table) from Bali, filled with red seeds from some tree in my parents' backyard in Singapore. Gold Buddha bought in Siem Reap, Cambodia. Weaving on table behind couch bought in Otavalo Market, Ecuador. Birdcage from Target. White pitcher (bigger than the one in kitchen) from West Elm. Antique opium pipe bought in Bangkok. Gold camels bought in Abu Dhabi in 1986 (my mother's). Big red Buddha atop bookshelf bought in Chinatown in San Francisco (on our first visit to the city together, way before we moved here!). Wooden carving atop DVD shelves bought in Bali.
Bathroom: White platter and tea lights from IKEA, rocks from Target. Small white vase from IKEA. Waffle-weave shower curtain from Target.
Bedroom: Four-foot high totem pole from Indonesia, bought in antique shop in Singapore (and carried back to Charleston by me as a Christmas present from Sean — not sure what I was thinking!). Pillows on elephant chair from markets in Cambodia and Singapore. Reclining silver Buddha on desk a present from Bali. Flowered pencil box on desk a present from India. Four-faced Buddha next to TV on Korean chest bought in a market in Shanghai.
Lighting
All overhead lights came with the apartment. Embarrassingly, all other lamps are IKEA!
Paint
Bathroom is "Badger Brown" made by ACE Hardware (bought at Brownies on Polk Street—hurrah for neighborhood hardware stores!)
Flooring/Rugs and Carpets
All hardwoods original to the apartment
Rug in living room from IKEA
Window Treatments
All blinds came with the apartment
Curtains in bedroom from IKEA
Artwork
Hallway: Vintage Vietnamese propaganda posters bought in Hanoi ($3 each!). All photographs taken by Sean (Burma and Vietnam).
Kitchen: "Doriane" poster bought ages and ages ago in college. Flatiron Building photo taken by Sean. Turquoise and red painting on kitchen wall bought in Chinatown in Singapore.
Living room: All photographs taken by Sean in Asia.
Bathroom: "You Make My Dreams Come True" photo of sidewalk graffiti in San Francisco, taken by some guy named Lee Wolfe, bought from a street stall somewhere near the Embarcadero. Matisse print from IKEA. San Francisco photographs taken by Sean.
Bedroom: Photo of monk over TV taken by Sean in Burma. Sand painting of Buddha over desk bought outside a temple in Bagan, Burma. Square red prints bought in Hanoi, Vietnam. Antique Chinese "Hundred Children" screen over bed bought by my parents in Singapore in 1985.
>>
Apartment Therapy supports our readers with carefully chosen product recommendations to improve life at home. You support us through our independently chosen links, many of which earn us a commission.