Quick Tip #10: How to Extend the Life of Non-Stick Appliances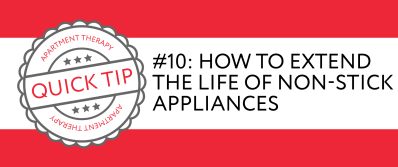 Every well-run home is teeming with tricks and shortcuts to keep it humming along. We're sharing our best quick tips — for cleaning, organizing and repairing stuff at home — to save you time and money. Click through for today's helpful hint, and links to tons more...
Fold a piece of WAX PAPER in half (waxy side out) and placing it between the plates of your warm appliance (waffle iron, panini press, etc..) for 3 seconds. The wax, unlike butter or sprays, won't burn and will give those non-stick surfaces just enough slick to release the food without the wax rubbing off on your waffle or sandwich for lunch. For appliances that don't have plates that press together, simply wipe the paper across the surface a few times and call it good. It's a quick tip that gives you a bit more slick instead of stick in the kitchen.
Please note: If your non-stick surface is flaky or damaged, don't continue to use it. This tip is only for appliances that are starting to stick more than usual...
MORE HELP
Our Sites:
Around the Web: