How To Do the LA Rose Bowl Fleamarket Right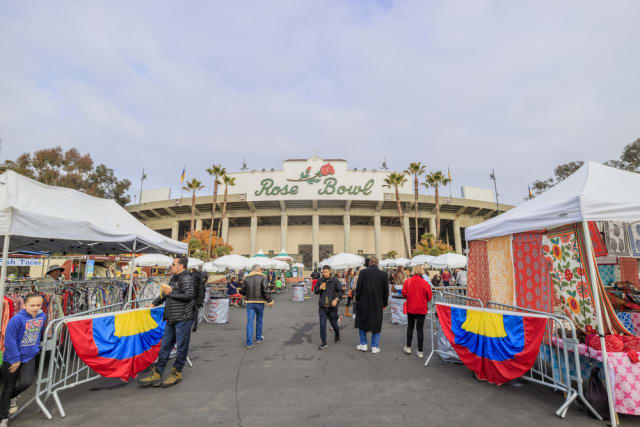 The Rose Bowl Flea Market, which takes place on the second Sunday of every month, is the most well-known flea market in Los Angeles and it's definitely one of the most well-attended. There are still bargains to be had and even if you're skeptical, it's an experience that shouldn't be missed. Here are my tips for making the most of your flea market trip:
Arrive early
Although it's officially open from 9 am to 3 pm, when we're really serious about looking for furniture, we like to get there early. It's worth the extra price of admission to get there before the crowds arrive and before the good stuff has been snatched up. Admission is $20 between 5 am - 7 am; $15 between 7 am and 8:30 am; $10 til 9:30 am and $8 after 9:30 am. If early's not possible, try late in the day. A lot of vendors will drop their prices so that they don't have to haul their stuff back with them.
Prepare
Wear plenty of sunscreen, a hat and sunglasses. Dress in layers (the day often starts off chilly before switching to boiling hot) and fill up with coffee!
Things to Bring
Bring plenty of cash —s mall bills facilitate bargaining. Bring a bag for your purchases or a folding hand cart, especially if you're planning to buy something big (some vendors will deliver your item for a small fee). A tape measure's good to have if you're looking for something to fit a particular space.
Tips!
Forgot your tape measure? A dollar bill will work in a pinch (it's six inches long).
Need more money? There are ATM machine's outside the entrance.
Forgot something in your car? Be sure to get your hand stamped if you have to leave for any reason and want to return.
But It's So Big!
With 7 miles of shopping, it's easy to get overwhelmed. I learned a trick from a set decorator friend that will get you in and out and hitting the best vendors: Once you pay your admission and pass through the turnstiles, turn left. Follow the chain link fence that separates the market from N. Arroyo Boulevard until it narrows to a point, then begin zig-zagging your way back in the direction of the entrance (go down one row, take the next row in the opposite direction). By the time fatigue sets in (somewhere between 2 and 3 hours), you'll have hit all the best vendors and avoided the crowds.
Shopping Tips
Bargaining is expected...and welcome. Know what you're willing to pay for something and be prepared to walk away. Enthusiasm always helps; vendors love to share the history of a piece with an interested consumer and often a conversation will lead to gentle haggling. There are no returns here. If you're not sure about something, be prepared to leave it behind. Once you do purchase something, many vendors will happily let you leave it there while you continue your shopping; the zig zag will help you find your way back to it. See you next month!